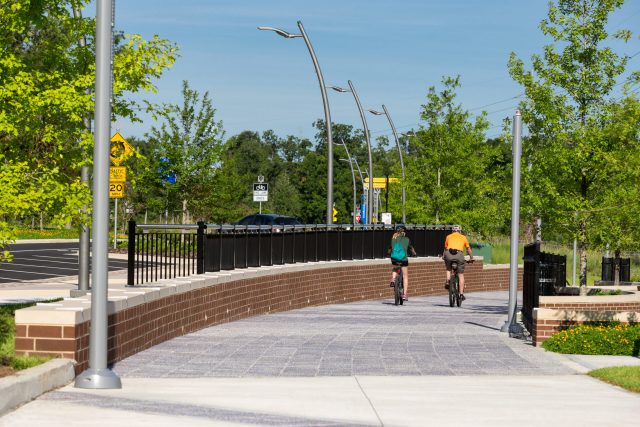 Located in the Florida Panhandle, Tallahassee is a place where college town meets cultural center, politics meets performing arts and history meets nature, a place where the vibrancy of what to do is matched only by the city's inviting hospitality. Best known as Florida's capital city, Tallahassee shares a deep-rooted history and culture with unparalleled natural adventure and an upbeat vitality. From sporting events and local music to outdoors and nature, Tallahassee offers something for everyone.
Arts and Culture

Our history weaves a fascinating tapestry of politics and ancient cultures, antebellum agriculture and Space Age innovation and higher education, all sprinkled with southern charm. While Spanish explorer Juan Ponce de Leon set foot on Florida's shores elsewhere in 1513, Tallahassee emerged as one of the New World's most significant early settlements and played a central role in Spanish Colonial history. Tallahassee showcases the site of the first Christmas celebration in North America and Florida's only fully restored Spanish mission!

Our area's rich history and beautiful environment also inspire many artists who make their home in Tallahassee. From live performances, concerts, galleries, public sculptures and murals, arts and culture reflect the history, culture and soul of Florida's Capital Community. For example, Railroad Square Art Park hosts more than 50 studios, galleries and small shops. This art hub is the creative haven for many Tallahassee artists and other small businesses. Spring in Tallahassee is full of celebration!

Tallahassee is home to the Southeast's largest, grand spring parade and celebration, Springtime Tallahassee. The spring showcases it's most festive time of the year with stunning color accents provided by dogwoods, azaleas, red buds, phlox, camellias and other native varieties. One of the iconic festivals held each spring is the LeMoyne Chain of Parks Art Festival. This festival was recently ranked #1 in "100 Best Fine Art & Design Shows by Sunshine Artist magazine. Held during the third weekend of April in downtown Tallahassee, this Festival attracts 170 juried artists from around the country. Also held each spring is the Shakespeare in the Park and Word of South, a festival of literature and music to explore the relationship between the two disciplines. Later in the year, the Florida Jazz and Blues Festival celebrates the culture of live music! This festival attracts world-renowned performers, as well as jazz and blues music lovers from across the region and country.
Giving Back

Due to their proximity to important policy makers, nearly 1,000 nonprofits call the capital region home. From national organizations to home-grown non-profits, Tallahassee offers many options for residents to connect with others who share their passion for making the world a better place.
Outdoors and Nature

As home to the Florida State Seminoles and FAMU Rattlers, our community is well known for its outstanding collegiate sports. But for individuals seeking a more active role, there is plenty that our community can offer!

From fishing or paddling down a pristine river or scenic lake, tackling a masterfully designed golf course, cycling along canopy roads or hiking along nature trails, there is an abundance of activity for outdoor enthusiasts. Over 600 miles of trails wind their way through and around Tallahassee, bringing thousands who enjoy exploring the great outdoors on foot, bike, boat or horseback to Florida's Capital Community. Blue trails along our serene lakes and black water rivers provide peaceful recreational opportunities as you watch manatees slowly bob along while colorful, and sometimes rare, birds fly overhead. For those looking for a challenge, rugged mountain bike trails await amidst the towering live oaks as they stand guard over the squirrels, deer, and foxes that live in their shadows. Along nearby multi-use trails, hikers, cyclists, and riders on horseback share the way as the wide-open terrain winds its way around sinkholes, springs, and breathtaking forest prairies blooming with wildflowers.

For running enthusiasts, we are home to one of the one of the nation's few sites designed specifically for cross country running at the Apalachee Regional Park. This trail is a pristine, multi-surface course that can host small and large running events. The park has hosted the Florida High School Athletic Association Cross Country Championships, the Florida State University Cross Country Invitational, and the NCAA Regional Cross Country Championships.

The adventures do not stop at the county line, North Florida is teeming with outdoor recreational activity throughout the entire region that is alluring to beachgoers, fishermen, and outdoor adventurers alike! Within a two hour drive, you can soak up the sun at the white sugary sand beaches along the coast, dive into one of the largest and deepest freshwater springs in the world at Edward Ball Wakulla Springs State Park, or explore the Florida Caverns with its dazzling formations of limestone stalactites.

With a topography unlike any other in Florida, our outdoor activities thrill those seeking running, hiking, paddling, cycling and equestrian adventures. Combined with over 3,000 acres of parks, boat landings, campgrounds, greenways, and access to the limitless adventure that North Florida offers, you are sure to find what you are looking for in and around Florida's Capital Community!
Cost of Living

The Cost of Living Index from the Council for Community and Economic Research shows the cost of living in Tallahassee-Leon County to be 2.9% below the national average. Utility costs were 13.4% lower than the national average. Groceries were the only component locally that was above the national average, while five components were below the national average.
Local Flavor

With menus featuring creative touches as varied as Tallahassee's landscape, dining in Florida's Capital Community includes authentic regional cuisine, down-home favorites, award-winning fine dining and even a place that serves hot dogs more than 10,230 ways. From casual fare to creative fusion cuisine, hoppy IPAs to near- black stouts, the variety of things to eat and drink in Tallahassee impresses any palate. From the new spots on Gaines Street and All Saints to old favorite's downtown and along Market Street, chefs make incredible use of fresh and flavorful ingredients. International styles can be found in authentic, intriguing establishments. Local seafood arrives daily and remains a favorite. And for those who like a little turf with their surf, fresh beef, pork, chicken, and more exotic choices grace menus across town. From humble suds to imperials reds, Tallahassee's craft-brewing scene is hopping!

The Capital City is creating brews with heft such as Assassin Caterpillar, Sledgehammer Stout, and Heffy Liftin. And it is crafting ales with local personality such as Miccosukee Honey Orange Wheat and Session IPA: The Process (alluding to Legislative Session here in the Capital). They are brewed in Tallahassee, many are award-winners, and the concoctions keep coming. In March 2017, Tallahassee's Proof Brewing Co. and GrassLands Brewing Co. won gold medals for their creations at the Best Florida Beer Competition in Tampa. By all accounts, Florida's Capital Community is fast becoming a star on the craft breweries map. The city's local breweries, craft beer taprooms, and more opportunities to indulge continue to expand, born from homegrown interest in brewing and the good times it fosters. The backstories of Tallahassee's craft breweries are as compelling as their beers
Diversity of Housing Options

The median sales price of a single-family home in our community was $227,000 in 2019 and has been closer to $238,575 thus far in 2020. The Council for Community and Economic Research's 2019 Cost of Living Index showed that housing's costs in Florida's Capital were 7.8% below the national average.